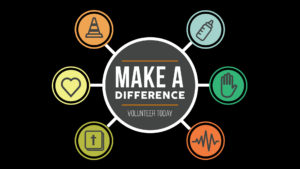 Jesus told us, his disciples, to make disciples of all nations. One of the most important values of Agape Missionary Baptist Church is our mission to the world. It begins in our own community, and spreads throughout the world. Agape members are involved in a variety of ministries from things as simple as washing the church vehicles, to preparing the church bulletins.
Greeters Ministry
A smiling face and a hand shake or hug says a lot about church when one walks through the door. Our trained greeters are there to make your visit a pleasant one when attending Agape.
Media Ministry
This ministry's purpose is to aid in the organization of all ministries by uplifting the name of Jesus through the use of unified presentation (media and print)
Ushers
The usher team at Agape Missionary Baptist Church fill an important role. They are involved in directing attendees to their seats, ensuring the safety of the building during services, guiding traffic, helping visitors, answering questions, providing direction, unlocking doors, locking doors, and generally ensuring that the service can proceed problem-free. The usher team is a servant-hearted group of men and women whose ministry is integral to church life.
Music Ministry
Music plays a very important and exciting role in the area of ministry at Agape. We have an anointed mass choir who uplift God and inspires the souls of each individual.
Youth Ministry
This ministry trains youth with the biblical basics that can help them grow and mature to be the type of person that pleases God.
Prayer Warriors
Prayer cannot be overestimated. Prayer moves the hand of God. Agape Missionary Baptist Church is a body of believers dependent upon prayer, and committed to God's sovereignty. Each Sunday, during the morning service, our team of deacons pray for the ministry of the Word. Throughout the week, volunteers to our Prayer Warriors team, pray for their pastor, a list of church members, any special requests, and missionary prayer needs. Each Wednesday, the church comes together for a special time of prayer and Bible study.
Saint's Alive Ministry
This ministry serves as a vehicle for outreach to the elderly, retired and home bound with the mission of encouraging and ministering to spiritual and physicals needs.
Sista Need A Sista Ministry
This ministry serves as support for women who are struggling with domestic abuse, chemical dependence, rape and other issues facing women.